Project: Thrummed Mitts
Progress: 1 complete mitten! Finishing completed, too!
To Go: 1 whole mitten! with 13 days to go!
Activities other than knitting done on day: Went to work at a construction site. I'm a security guard, so I knit on the job. No one was around, so I got lots of time to myself!
Total hours of knitting: about 6, but that counts weaving in ends and fluffing all the fleece out. So, I can fiish one of these mittens in 10 hours. not bad!
Photo: This mitten is so stuffed with fleece, but insanely warm. I'll forgive that it makes my hand look like it has elephantitus. I love how the fleece V's look like hearts. aww. Here's the outside: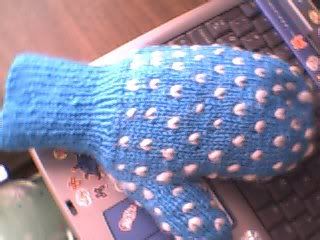 And the inside: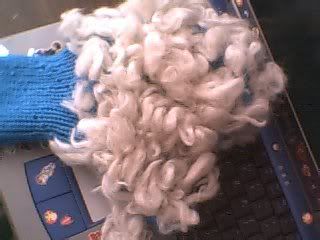 Medals Won By Canada: 1 Gold, 1 Bronze
Woman's Hockey: Canada 12, Russia 0. We Canadian women kick ASS! And yes, both medals are won by women, too.