I've been pretty slack with everything since my birthday. My knitting has been slow and steady, work has been a bit tedious, and I've spent a lot of time watching episodes of shows I've missed (The Tudors, Dexter and Big Love being a few). Now that American Thanksgiving has come and gone, I've been on a mission to finish all things Christmas as soon as possible. So far, I have finished knitting One person's gift, but I only have two more people to buy gifts for. I think I'm in a good place for a month left to Christmas. So, most of these are WIP pictures. Hopefully that will change!
First, the Christmas presents. I hope none of the recipients glimpse this page, but I think I'm safe!
For my brother, who has wanted a
Dr. Who scarf
for ages, I have restarted one I began earlier this year. The first attempt was too wide, and wasn't going to be long enough. This one, however, will be monsterous!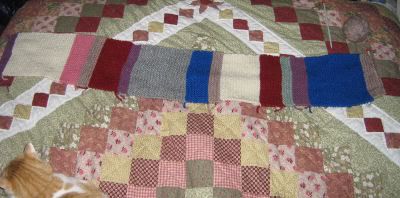 The scarf is over a quarter of the way completed, and it already spans my 6' queen sized bed. So, we're looking at a 20' scarf at least! Notice the pink stripe. I'm going to have only one or two more of those, because paired with the other colours, it simply makes the scarf too feminine. I've replaced the pink with a grey-green for the rest of the scarf. My colours are not very accurate, I'm improvising with the huge amount of Patons Shetland Chunky yarn I was given by my aunt last year.
My dad is a huge golfer, he's out on the course almost every day in the summer. He also has everything under the sun golf related, includig books, ornaments, computer games, etc. So, I decided it was time I knit him some golf club covers. They're unique, stylish, and could double a s mittens if he was in a pinch :)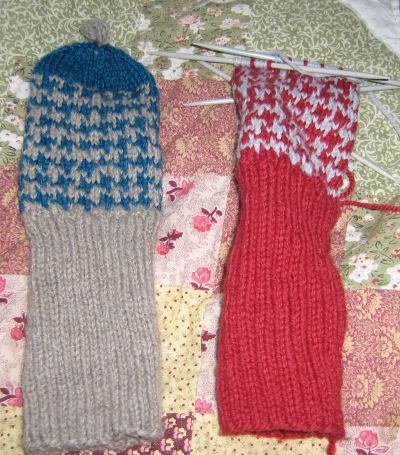 I have another cover finished, made in opposite colours to the tan and teal (teal bottom, tan top), and I'm going to make another in the red and grey, switching the colours again. I wanted a matching set, but I only had enough yarn for two of each colour scheme. I still think it looks great. The pattern is from Creative Knitting (my favorite knitting magazine), and the yarns are
Patons Classic Wool
in Peacock, Dark Natural Mix, Rich Red and Pearl.
Close ups of the houndstooth pattern (so easy!):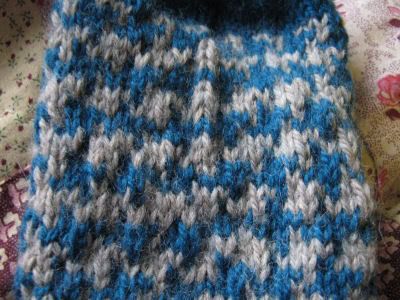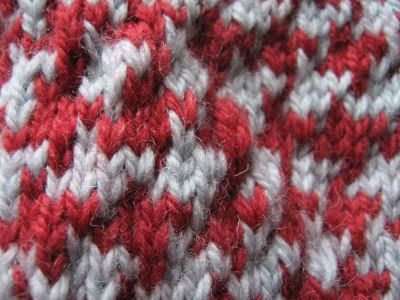 And last, but not least, my scarf for my brother's girlfriend. It's a simple sideways garter stitch scarf, but the yarn is amazing so it looks really nice.

Bad photo...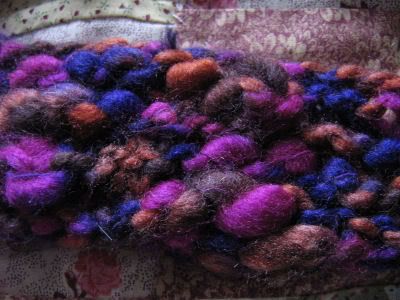 Close up of the thick and thin quality of the yarn (
Bernat MAX
in April Wine)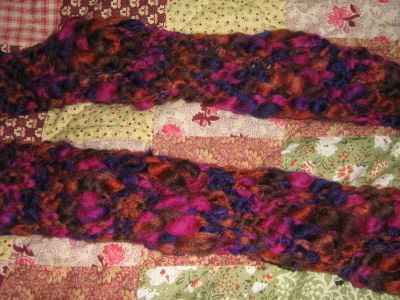 A bit truer colours, but any attempt at accurate colours today was hopeless, it was a very grey day!
That's all for now, I'll post the rest at a later time!