Yarn:
Patons Kroy Socks
(75% wool, 25% nylon) 203 yd/ 187m in White Cap
Koolaid: Pink- 2 pkgs Strawberry Kiwi
Blue- 2 pkgs Ice Blue Raspberry
Purple- 2 pkgs Grape
Method:
Found Here.
Result:
Glorious.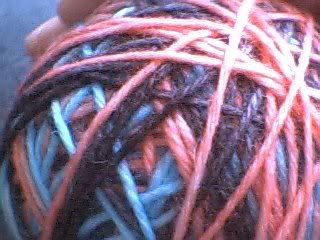 This ball took hours to wind by hand, because my skein tangled really badly in my attempts!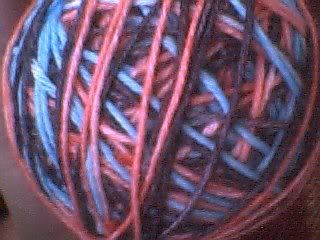 The colours are fairly close, but this is a webcam, so it's not perfect.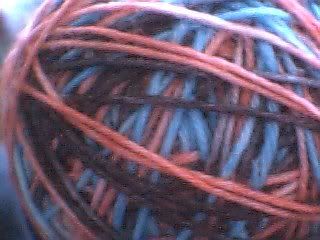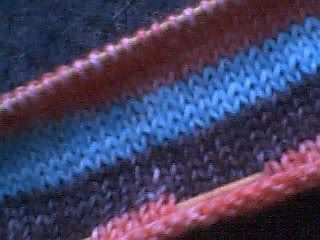 Here's a bit of it knit up. the stripes are nice and sharp, about 3-4 rows each, which will make some awesome socks.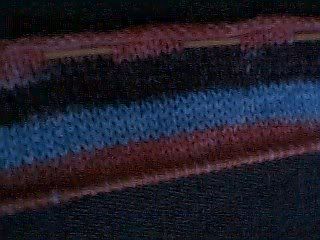 I dubb this colourway "Care Bear Stare" due to the hues reminding me of Hugs, Tugs and Gran. I will post the finished socks someday!
Tomorrow, I'm going to try dying some more Classic Wool with lime, tropical punch, ice blue raspberry and changing cherry....we shall see! Self-striping yarn is addictive!
And now for the cuteness factor of my blog: Mahoot not wanting to be held (which is always). But see how wonderfully he matches my hair? And his eyes are just a goregeous bronzey gold. Oh to have pretty eyes like my kitty! They just now inspired me to find just the right yarn to match his eyes....for what, I don't know. I loved the cloche
missamerika
made with moonlight mohair (scroll down to see a close up of the yarn), so I might check out that gold color.