Yep, I'm still obsessed with these Newfoundland mittens. I've decided to knit mittens for my mom, dad, brother and his girlfriend. I've also knitted another pair just because.
This pair is for my brother' s girlfriend Gwen. She likes purples and pinks, so I thought the
Sean Sheep Armitage
in Cranberry for the body colour and
Patons Classic Wool
in Plum Heather for the cuff and thumb would be right up her alley. The only problem I'll have with the Sean Sheep is matching up the colour gradiation on both mitts. The pair I made for my dad turned out well, but the colours don't line up exactly.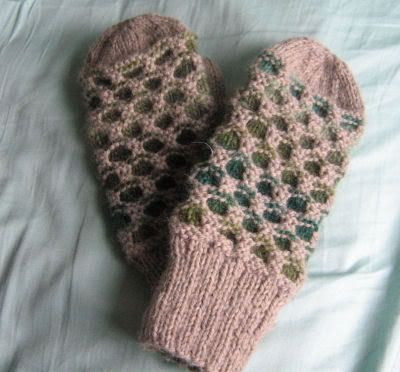 Again made with Armytage in Foliage and PCW in Dark Natural Mix. Green's my dad's favorite colour, so I think he'll love the gradiations from emerald to olive to grass green. I hope these fit my dad, I wasn't thinking of hand size when I made them, so they fit me, but I'm not sure they'll fit him.
I tried to make some adjustments for my brother's mitts. I added another honeycomb repeat and added some rounds to the thumb, as he's all tall, thin and lanky. I had knit him
Swell
two Christmases ago, with the same black and new denim PCW. He had to wait 2 years to get matching mitts, but I had to knit that Dr. Who Scarf for him!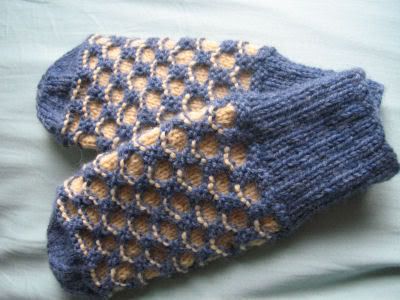 Mom's favorite colour is blue (which might explain why I like turquiose, mixing both of my parent's favorite colours), so these mitts in PCW New Denim and Old Maize will make her happy. I love the combination of blue and yellow, it looks so fresh and crisp.
As I'm typing this post up, I'm watching Flight of the Conchords. Hilarious! But very distracting....I apologize for the terrible writing!