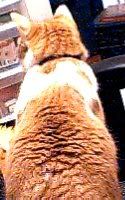 Listening to
Charlie A'Court
, putting me in a mellow mood. He spoke to my Creative Process class Thursday, and played us a couple of tunes before giving away some of his CDs. That man can sure belt it out. He's got that gutsy hard voice that you know's from the heart. The edges of his voice are softened on his CD, but I love how he sounds live. He kicks ass.
On to the knitting...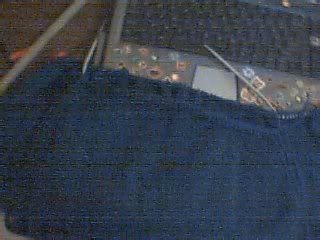 I give you, the pocket! (WHY OH WHY DON'T I HAVE A DIGI CAM YET???) I was so nervous about picking up the stitches, but once it was done, it looked wonderfully seamless. the bottom edge flips up, but hopefully that'll fix itself when I block it.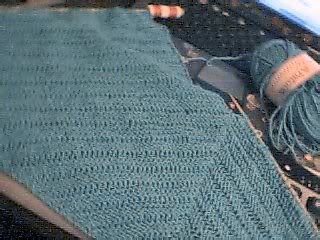 I ran out of Patons Classic in Peacock (the yarn I'm using for Under the hoodie), so I've started another project. This one's called "Silky Tie Wrap" from
Creative Knitting's
January issue. I'm enamoured with the simple construction- no seams! It's made with
Patons Katrina
in Lagoon, not the
Regal Silk
the pattern suggests! I think it looks very close to the photo in CK, so I'm happy! I'm thinking of making this for my mother, maybe in Patons Glittalic or
Brilliant
, especially in marvelous mocha. Being a redhead like me, I think she'd love the bronzeish brown colour. I want to finish it before she takes her Alaskan cruise this summer, it would look so nice! Anyway, I made it through the first side panel, and I'm about to start the first tie. It's looking great so far!