And I manage to get an update done! I was supposed to be spending today doing loads and loads of laundry, but when I went downstairs to make sure no one was ahead of me, I discovered both of the washers and one of the dryers was broken! Can't do much laundry with one dryer! So, to cheer myself up, I went over to LK yarns. My birthday was last Friday and I had been generously given CASH, so what would any knitter do with a surplus? Buy yarn of course!
Noro and sari and Fleece Artist! OH MY!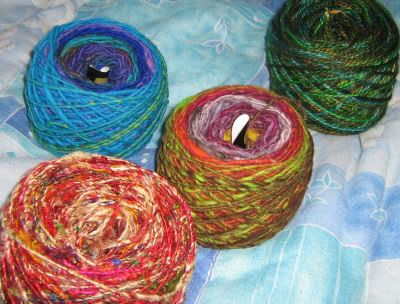 I knew I wouldn't be able to leave without some Noro, and I knew I'd find something in the big bins of Fleece artist mill ends and seconds. But then I saw the recycled sari silk... I've thought about buying it many times, only I found many of them just had too much red in them! This skein has a lot more cream and gold, but still lots of red and fuschia.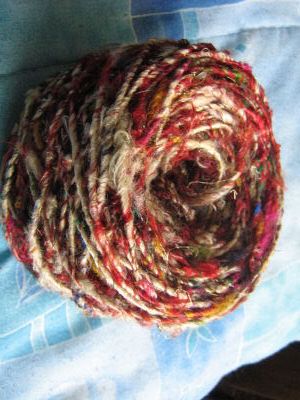 I'm not sure what I'll make with this yarn. I'm thinking maybe a bag? It's not a yarn that you'd put next to your skin.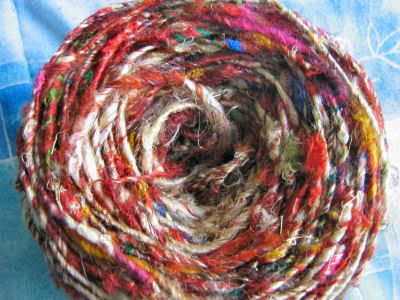 I just love that there's little bits of metallic thread. Plus, I only pad $10 for a 150g skein!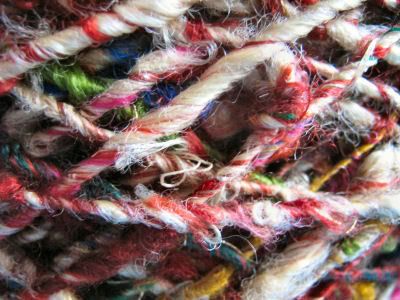 Next is the goregous
Fleece Artist.
I absolutely LOVE this colourway, but I did also have my eye on a blue green and bronze one that reminded me of a
Nova Scotia Tartan
. Both are mill ends, and I can't find the colours on their website. I imagine this one is called "forest greens" or something. Again, don't know what I'll do with this, but most likely it'll end up a scarf.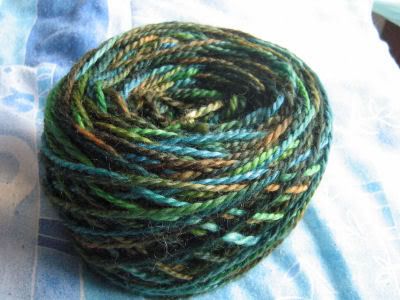 Last but not least is the Noro Kureyon, colourways 40 and 207. Aqua/purple/brown/blue and
brown/green/orange/fushia/purple/electric yellow! I can't wait to make another scarf out of these! It's either going to be another ribbed scarf or a diagonal scarf like the
Unicorn Pegasus Rainbow Scarf
by Huan-Hua Chan. I love how bright these colours are, so I can't wait to get started to see how they look together!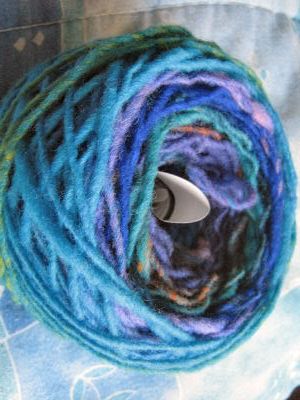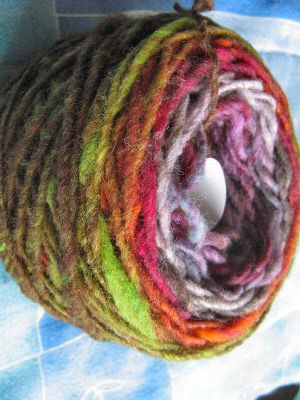 See? In the centre there? A little bit of the shocking bright yellow! Eeee I love Noro!
So that's the latest addition to my yarn stash, but I still have so much more to show you! I will post in a wee bit, too much to post in one go!