Hi all you people (I don't even know if anyone looks at this site anymore). I haven't posted in over 8 months. I've been busy with 2 jobs that had me working 6 out of 7 days a week. I have some pics from back in March to post here, but I'm awaiting a better camera before I take pics of any new stuff I've made.
I will hopefully post soon, as I now have a new job! It's 9-5, M-F, so I finally have weekends off for the first time since I was 16!
Any ways, on to the knitting!
I've had an obsession with Newfoundland Mitts since I was a kid, and now that I know how to knit them, I went on a bit of a spree.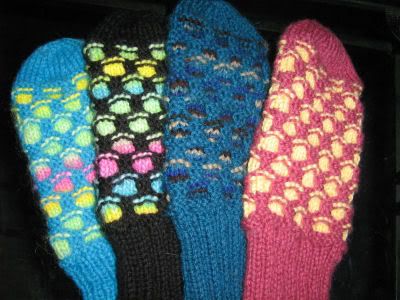 From Left to Right:
My turquiose and rainbow mitts. Made with Paton's Classic Wool in Too Teal and Katia Mexico in Easter.
Black and rainbow mitts, made with PCW in Black and Katia Mexico again
Teal and brown mitts, made with PCW in Peacock and Retro.
Pink and yellow mitts, made with PCW in Old Rose and Maize.
There are two other pairs I knit missing from this picture. My original blue and red pair got lost on a bus while Greg and I were on our way to the movies in Bayers Lake. I hope someone found them and has toasty hands because of them! The other pair was sold at the yarn store I work at,
Kreative Knits & Designs
. It was similar to the black pair, but in white instead. The black and teal pairs were sold a while ago, both bought by the same person!
Close up of the honeycomb stitch.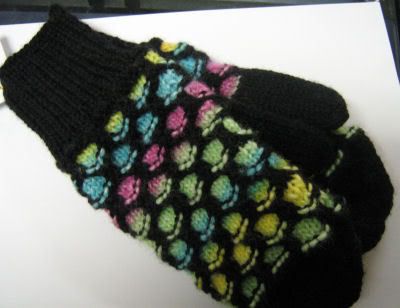 These mitts have evolved slightly from my first pair. The cuff has changed from a 1x1 ribbing (which I am horrible at) to a k2, p1 ribbing that looks a lot sharper and seems to sit snugger on the wrist. The cuff is knit for 20 rounds which gives me exactly 3 inches. The thumb is knit for exactly 20 rounds before the decrease row. The top of the mitt...well, I had been finishing it off with a kitchener stitch to get them to lay flat, but it makes it awkward to get the mitts to lay the right way, so I've switched to a regular "thread yarn through remaining stitches and pull tight" ending. I still haven't perfected picking up stitches for the thumb, but I'm good at sewing up the gaps produced as a result of my lamentable skills.
Speaking of Kreative Knits, I think I'll give you a bit of a tour. Knitters, ask away if you want to know about a yarn you see.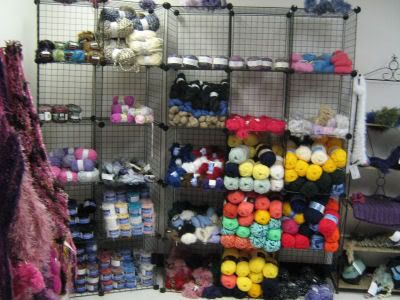 One of our many walls of yarn. To the left and right are scarves and hats and such that we sell in the store.
More yarn (lots of Lily Chin here).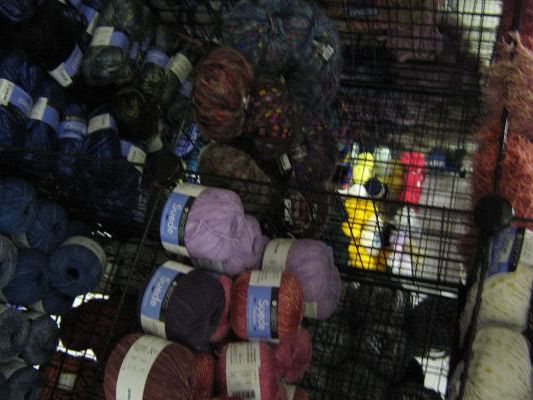 Mmm...Berroco.
Some beautiful pillows made by Crystal, who moved to Alberta last summer. I miss her. The pillows are made with woven ribbons.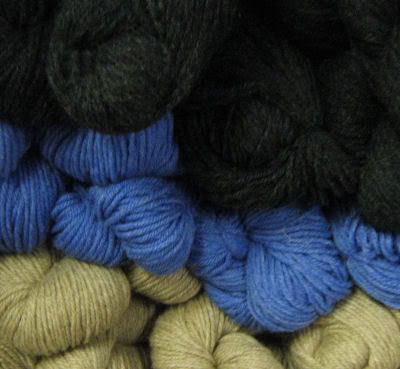 *drools* Scottish Cashmere.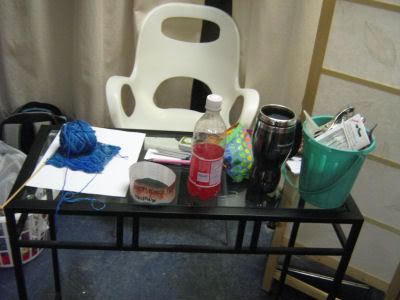 And here's where I sit and knit all day long.
Oh, and we also sell some really nice handmade soap. There's handmade in Nova Scotia, with ingredients like Maple Syrup, Dulse and Blueberries.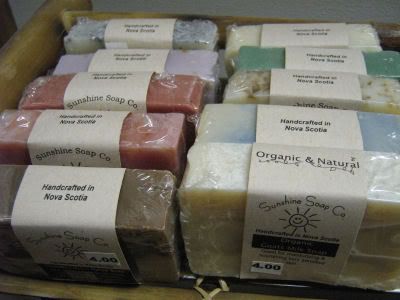 I of course love the Apple Blossom one. I just might have to take it home with me.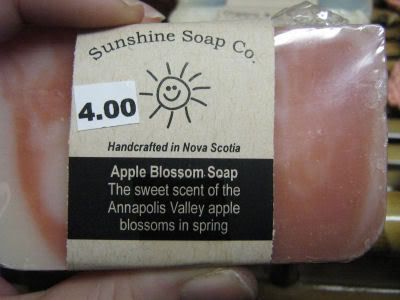 While I was snapping these photos, I took a picture of my new favorite necklace. I got it for A DOLLAR. Which I guess is a good thing since I lost it. I'm so sad.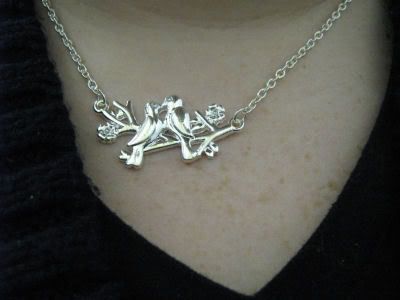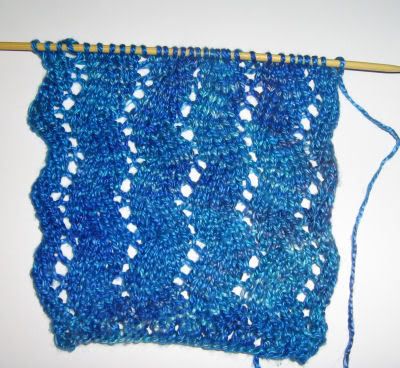 This is a scarf I started. It's made of 100% pure silk yarn from Fleece Artist, a Nova Scotian yarn company. I'm pretty proud of myself. I'm not a lace knitter, but I'm trying hard not to screw this up. It's silk, for crying out loud. It deserves to be knit into something beautiful.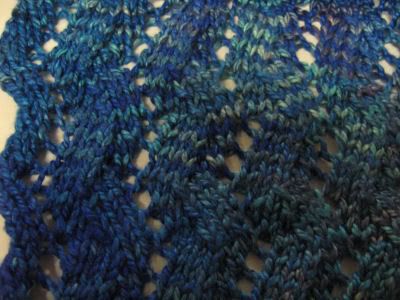 Close up of the pattern.
I'm also working on a bigger, brighter scarf. I was inspired by
Brooklyn
Tweed's Noro Striped scarf, so I took apart the Calorimetries I made
ages
ago (and only wore one a couple times) and put the yarn back together to make a bright, splashy scarf I won't get bored with. The colours are beautiful. They go together well, without being too similar. I love teals and browns, but I also love rainbows, so this scarf is the perfect marriage of my favorite colour combinations.
My one irk with Noro is the fact that there are random knots in the skein, which result in an altogether different colour popping up. For a subtle gradiation self-striping yarn, this is a jarring jump from one colour to the next.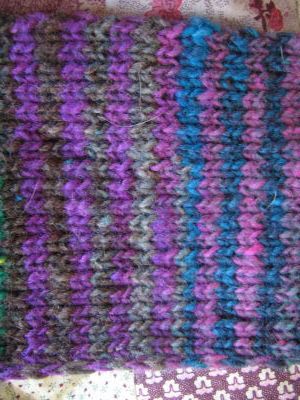 See what I mean? it goes from tawny brown to electric blue in the middle of a row! And the other ball jumped from a green to a purple!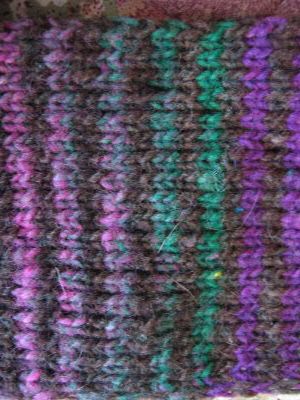 Well, that's it for now, I'll try getting some new batteries for my crappy camera and update from March til now!