Classes are finally over, I just need to ace my exams, and I'm done 3rd year English! So, That's why I've neglected my good old knitting blog. So, all there is to do now is pic spam!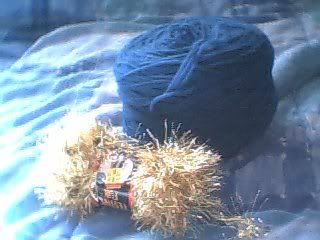 I've aquired some interesting yarn in the past little while. On my journey to pick up Harry Potter and the Goblet of Fire on DVD at Walmart, I of course found myself in the craft section. I was drawn to the lovely(?)
Festive Fur
, and I bought two balls each of silver and gold. I'm thinking of using them for spiral scarves (which you will see later), or with the single ball of
ONLine Linie 185: Smash Irisee
in blueberry that I picked up...maybe a purse???
The other ginormous ball pictured is this 3-ply teal wool I got from Kreative Knits and Designs for $6.00! It's a little less that 300yds, great for felting, which I plan on making a "designer" clutch with, which you again will see later on in this post.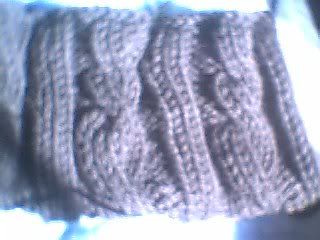 This is the knitting part of the "designer" clutch I'm making, which may go to a friend for her upcoming 21st birthday. It's made with black
Titan
yarn, a big bulky acrylic that's super soft and my favorite bulky yarn to work with. The colour's washed out because I took pictures by the window, it's actually very black. Anyway, this clutch is going to look like
these ones
by margaret nicole, who sells them for $150!!! I just need the dowels and some pretty ribbon :).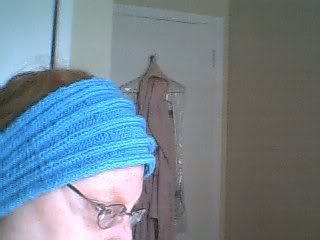 My Panta is done! I had showed you the wrong side of it in my last post, but here it is, finished and after several wearings. It's perfect for bad hair days! And it stays in place so well!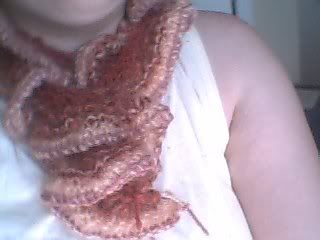 I also whipped off this pretty spiral scarf, which is a little short, I'll have to cast on more stitches next time. It's made from
this pattern
, on size 15 needles.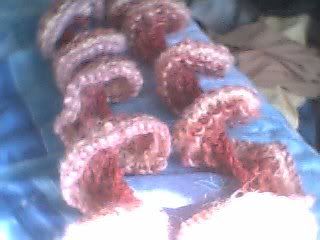 The yarns are a thrift store raspberry acrylic,
Patons Divine
in Floral Fantasy, a thrift store peach mohairish acrylic, and a thrift store dusty rose acrylic. All in all, I think this would be a great xmas gift for my female relatives, it's so customizable and easy!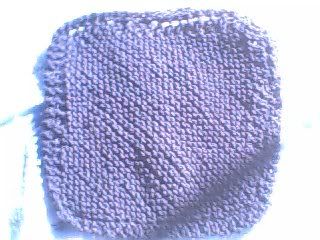 Last weekend was the Junos, and I had to work. Being very bored, I whipped off 3 dish cloths. I can make 2 1/2 regular garter stitch dishcloths out of one ball of
sugar and cream
(mine was navy), and I also made one "fancy" one from a pattern off the ball band.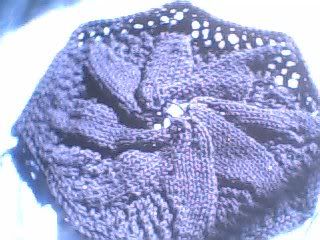 I started a purse in the fall, thinking i would make it for my mom as a christmas present. Well, it's still not done, but I've started up with it again. Here's the pretty strap, done in a simple cable pattern.
I've sewn fabric to the other side to help it keep its shape.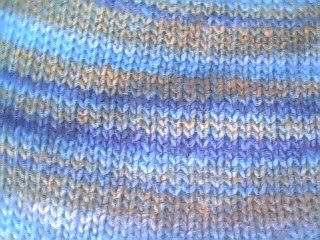 This is the actual bag part. It'll be getting a lining, with a pocket, then I'll knit a couple strips that I'll sew onto a zipper, then onto the bag. I have a great ugly green zipper that will go well with the cerulean stripe in the yarn.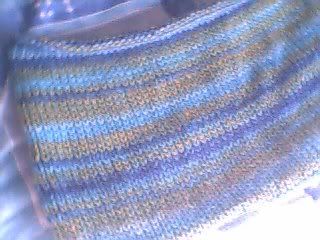 The yarn is
Katia Mexico
in colour 5854. I still have 2 balls left, and no plans for them!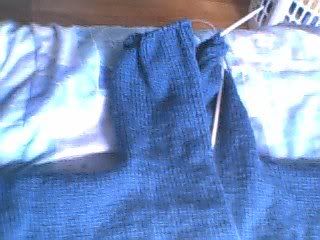 Under the Hoodie is still going strong. I have 9" of the hood done, then once that's done, it's time for sewing! I HATE seams!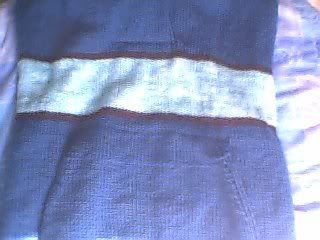 The rest of the body...I'm so proud of that pocket!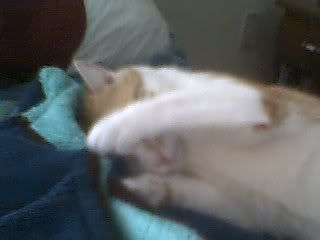 Carlos is being modest.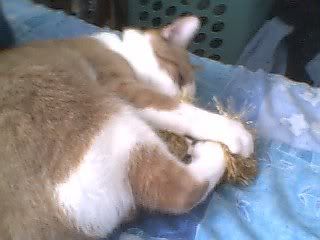 Mahoot is being destructive.