Well folks, one more exam and my third year is over! It's one essay question, which the prof already gave us, so this should be a piece of cake! Because of my exams, my projects have been of the instant gratification sort....made inbetween studying breaks (usually while watching General Hospital, or Genny Ho as Greg termed it!) So, here they are!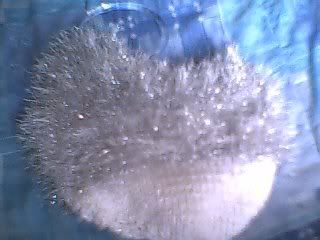 This is what I'd like to call my "Crazy Ass Bling Purse". It's the Heartthrob Purse from Creative Knitting's January edition. The yarn used in the pattern are 4 worsted weight yarns (rayon and bamboo), three held together at once. Well, I went my own crazy, experimental route, and chose a ball of white phentex merit, two balls of sugar and cream christmas sparkle (white cotton twisted with a silver tinsel), and the lion brand festive fur I bought recently. Well, the result is a crazy sparkly monstrousity that I'm not quite sure will see the light of day.
If you look closely, you can see the rhinestone zipper that took forever to sew in! It's so hidden by the fun fur, I think I might need to give it a trim...that could be disasterous, though!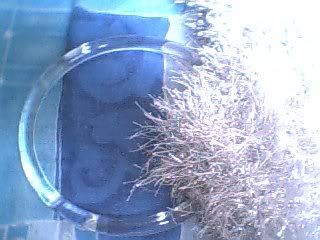 I bought the clear plastic handle yesterday on my excursion to michael's (more on that later). It adds so much to the tacky factor.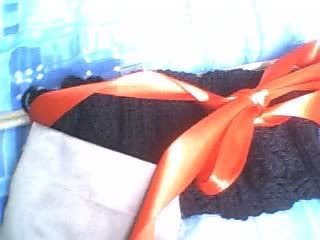 Speaking of purses, I now have all of the materials to finish up my fancy designer purse. Dowle handles, red satiny ribbon, and nice grey fabric for lining. This will be so classy!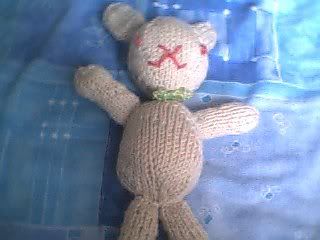 It being Easter last week, I had toknit some Eastery things. So, I give you my Bunny Bunny Bunny!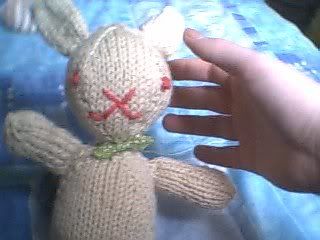 He's made with Jess Hutch's
Bunny pattern
, with Patons Canadiana in Oatmeal. Jess suggests to use doll eyes, but since all I had were yellow cat eyes, I thought it best just to use french knots. His little bowtie is some sheer green polkadot ribbon I found one night working as Pedway Guard...not a lot of ribbon, but I think it looks cute.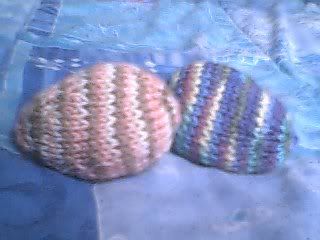 I also ended up making a few Easter eggs from curlypurly's great
egg pattern
. The left is Red Heart Super Saver in Neopolitan, and the right is TLC Essentials in Spring. I also made one in Opal sock yarn, but I believe the cats stole it. The way the self striping yarn worked up, it looked more like a stuffed olive than an egg!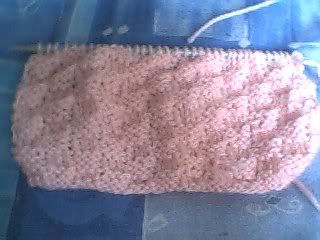 This here's an aarmwarmer. I cast on for this thing, like, 10 times. I tried working on it in the round, but then decided on doing it flat so I could sew up the side and leave a thumb hole.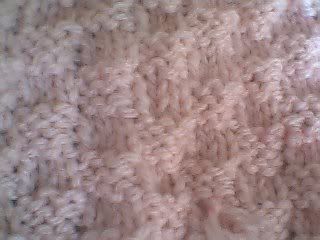 Close up of the stitch. It's 3x3 basket weave stitch, which I think looks like a subtle checkerboard. I HAD to make armwarmers in this cotton candy pink to go with my new hoodie...
I love it so much! The yarn matches her little pink bow! so cute!
Anyway, yesterday I went to the new Michael's that opened up in Bayers Lake. I must have spent an hour in there....So much cool stuff, made me want to start up beading and jewelry making with all the goregous beads they had! I restrained myself, and here's my haul:
Two balls of Lion Brand Jiffy Thick and Quick in Grand Canyon ($5 each!), two balls Moonlight mohair in Glacier Bay (so pretty! I love to pet it!), and some cool flower shaped handles. Oh and the clear plastic handles as well. So worth the trip, and I can't wait til they offer a beginner crochet class!
So, that's all from me this week, hopefully I'll finish up some more projects for next week! Bye!