I have Fridays free this term, and while I should be using it to study and whatnot, I spent my day doing all things knitting related. I organized my stash by color (The majority of my stash is blue/turquoise/teal, but I was suprised to see how much pink yarn I had :S I'm not a huge fan of pink...here's hoping my secret pal is, it's really nice yarn!) and sorting out all my needles and putting the dpns together. I worked some more on Under the Hoodie, and I now have 1 sleeve finished, the back stripe on the body, and the start of the second sleeve. I'll most likely run out of my hand dyed yarn before the sleeve is done, but I'm waiting for my yarn
dealer
seller to get some more winter white and peacock in to finish the whole thing.
The Silky Tie Wrap might also soon go on hiatus, once I run out of Katrina. I'm a one-ball stasher, which means I don't usually by more than one colour of yarn at a time, so I end up having to go back and buy more :)
I also tried my hand at making sitch markers. I have some boring plastic rings from the craft store, but I wanted some cute ones that really stood out. Plus I wanted something nice to send to my secret pal (whenever it is I'm getting one---- don't get me started!). So, here's my first attempts: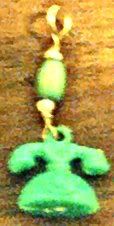 Horrible picture, tweaked with Paint Shop Pro. Anyway, I used gold colored wire (don't know the gauge or anything, just that it's very pliable) and this cute plastic telephone charm I've had for YEARS. The beads are wood and ceramic, taken from an anklet I was never going to wear.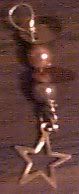 I'm very proud of this one. Same wire, with a star charm I have no idea where I got it. The beads and sequins are from a dissected hair scrunchie I was never going to wear. I can't wait to do a project that I'll need them!
I'll probably get some better wire soon, at least some silver stuff, to match all the silver charms I have. And then I'll make some sets up, four each maybe? They're SO easy to make, I'm tempted to show them to my LYS and see if they'll sell something like that.
Till next time, keep fit and have fun!