Ahh, summer vacation. All I have to worry about is work, and I could quite frankly do with a lot less of it. But something has to pay the bills! So, since I've been off for a while, I got a lot of little projects done. Instant gratification is the name of the game. I also made a couple things for Mother's Day, but I'll post them after my mom gets them :) Right now, my "main" project is to wear on Mother's Day (if I get Sunday off. Finger's crossed!). It's a hevily modified version of the
Everybody's Doing It Shrug
. The original website for the pattern was down, so I just improvized!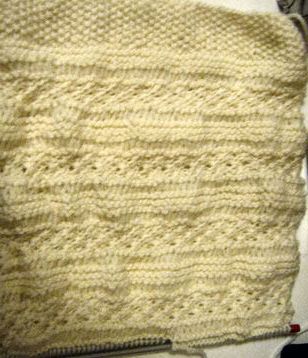 So far I have a 1 1/2" section of seed stitch (14 rows on size 7 needles), and then I did 5 garter stich rows, followed by a k1, yo row. Then, I looked through
The Stitch Library
and found this
daisy stitch
. I love how it looks, i might make another shrug on larger needles in just this stitch. It's goregeous!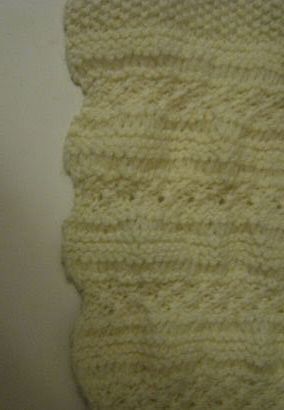 Because the daisy stitch pulls the piece together so much, it created a very suprising and very pretty scalloped edge! Such a happy accident! I will take a phot when the shrug is finished, hopefully by the end of my next shift. I'm at 9" of the "body" of the shrug, so it should only take another 6 or so inches to fit! I love making shrugs! Oh, and this was made with Patons Classic Wool in Winter White. I rarely use anything else!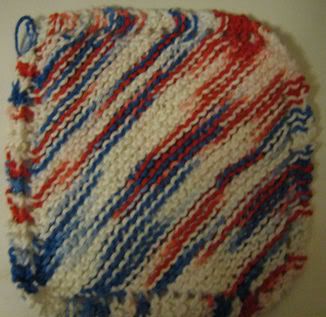 I picked up a few balls of Sugar n' Cream from the "Buck n' Near" store, for some pretty dish cloths. Here's one in
Americana
, and I have a ball of
Daisy Ombre
,
Salt and Pepper
, and a Bernat Handicrafter HUGE ball in
Summer Splash
(the same as
Sugar n' Cream
, which is odd!) So, lots of dish cloths in my future. Great Xmas presents, in my opinion. Though I might be infringing on Joan, my uncle's wife's mother, who knits them and sells them to make money for my cousin's college fund :S So maybe I'll just knit a bunch for Mom and Apollo.... hats and scarves for the rest of the family, maybe!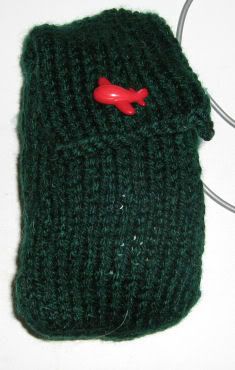 As you can tell, I have a new digital camera. It's so loverly, so I knit a little case to protect it. The airplane button was inspired by the word "incoming". I plan on duplicate stitching a cityscape on the bottom of the case, too look like a night air raid, since we always see air raids in green night vision.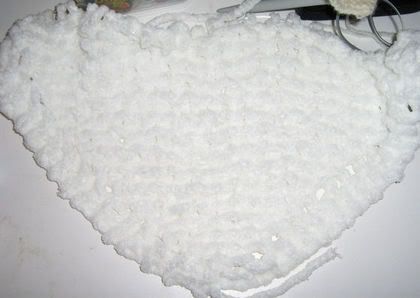 The final project I took a picture of (yes, I have more. Like an afghan modified from a pattern in
this book
.) It's a garter stitch blanket made of Patons
Bohemian
in white out on size 15 needles. It's just the simple dish cloth pattern, but it's working up to be a soft fluffy cloud of plush goodness. It's going to be between 4-6 balls of Bohemian, depending how large it gets. I'm about halfway through the first ball, and it's already 2' across. I'd like it to be 5 or six feet square, but that might take a LOT of yarn. Oh well, it'll be the softest blanket ever!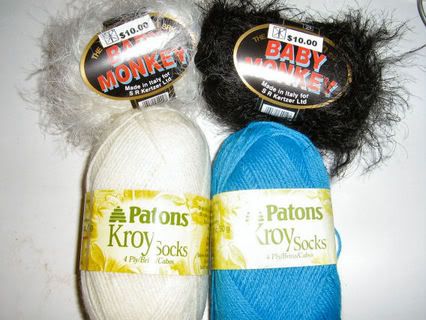 And this is some more additions to my stash. Two ball of Baby Monkey, for a knitted kitten I'm making in the likeness of my brother's cat. A ball of blue Kroy socks yarn to go with my dyed yarn for the cuffs, heels and toes, and a ball of muslin to try my hand at more self striping yarn!
And now, for my obligatory cat pic, I give you Calos looking very perplexed.