Last Friday, I was blessed with my vacation pay. And while no one could ever have a vacation on the money I got, you sure can spoil yourself with yarn. I browsed at
Kreative Knits
for about an hour, and came out with a big bag of yarn and my wallet over $90 lighter. What does $90 of yarn look like?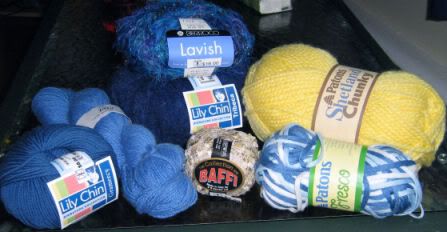 This, believe it or not, is what it looks like! It's missing two balls of
Patons Bohemian
in White Out, destined for the Big Boho Blankie I'm plodding away at.
Anyway, clockwise from the top, we have:
Berrocco Lavish
in Cadaquez (lavishly expensive, but so soft and glittery!),
Patons Shetland Chunky
in a color the apparently don't have anymore (a soft, buttery yellow)?,
Patons Fresco
in Tye Dye (also discontinued, but the bargain of the day at $2.50!),
SRK Baffi
in Cream/Gold, (also discontinued!)
Lily Chin Tribeca
in colour 1276,
Jilly
100% Scottish Cashmere(!!!!!) in Light Navy (colour is way off on the website), and
Lily Chin Gramercy
in colour 3867. Phew...lots of pretty yarn, all but the cashmere is going into a special project I hope to start soon! The cashmere...I'm thinking of making into a simple lacy scarf like
Branching Out
, but I'm thinking a flower instead of leaf pattern, since it's blue like forget-me-nots!
Anyhoo, enough yarn porn, onto the WIP!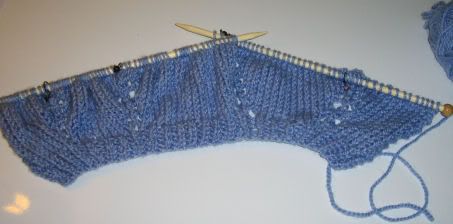 The start of
this shrug
, which I'm considering ripping out, because it just looks too small. I'm meant to work the raglan increases until the sleeves will go around my arm, and at 3" or so of knitting, I'm barely 1/4 of the width I need! back to the drawing board, methinks.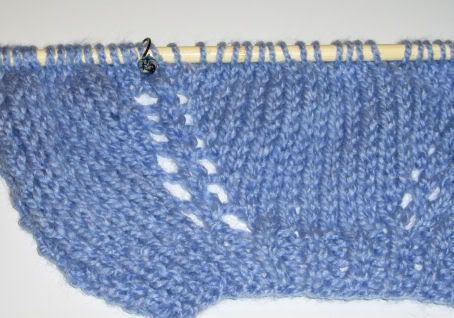 Close-up of the raglan yo increases.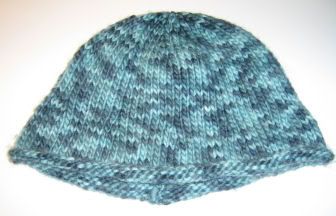 My second attempt at
this cloche
, which I've had to modify so much it's not really the same hat!
I'm so scared of felting, but I hope to do it Friday!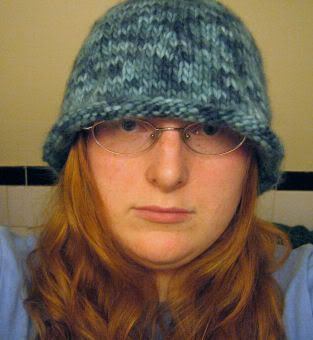 On my head. Don't mind the serial killer dazed look, I was taking the picture by pointing the camera at myself and looking at the reflection of the view screen in the mirror. I don't want it to shrink too much lengthways, but otherwise it's too floppy, and that brim needs some help! I hope the varigation of the yarn isn't totally obscured, it's very pretty! I'm calling it the "Freedom Wool Cloche" after the yarn.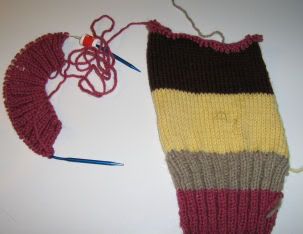 Time for a frustration pic. This is my Sesame sweater, which I knitted away happily on while Mom was here last week. Then, when I was at the armhole shaping, I realized I had cast on 10 fewer stitches than I should have! Grrr, so, now it's back to square one of the left front!
That's all for now, hopefully I'll have another post in the next few days!