I have so many projects to post, but for the past two days, I haven't had the time, even though it's "off" time from work. My mom's in for a conference at the nearby university, so she's been staying with me. And spoiling me with homecooked stew and pasta, and buying some much needed things for the apartment, including one of those little upright canister vacuums for the hardwood floors. I love my mom! Oh! I totally forgot to post pictures of her Mother's Day present before I gave it to her! It was a knit washcloth and bath mitt knit with Bernat Handicrafter, in the colour I talked about in my last post. Then I added a couple wonderfully smelly bars of soap and travel shampoo and conditioner, so she can take it all on her Alaskan cruise at the end of June :) And my shrug turned out beautifully, but I need somone to take a photo of me wearing it, as I'm terrible at self portraits.
Moving on, I thought I'd regale you with my wonderful story of salvaging thrift store yarn from an old sweater. I had seen other bloggers post about their wonderful finds, and I decided to try it out gfor myself.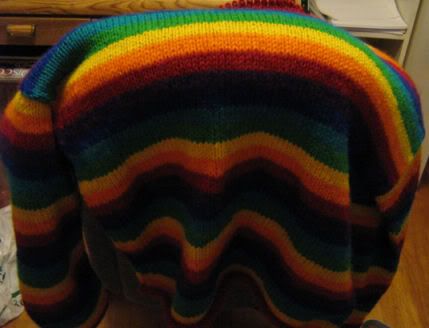 Exhibit A: The ungodly ugly sweater, size XL, $5.99 at the local Value Village Thrift Store. I adore all things rainbow, so this sweater beckoned to me. The only tag on the garment said: 100% Peruvean Wool. Bingo.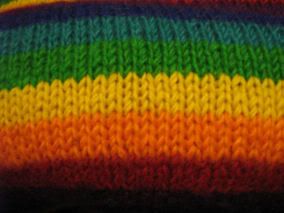 A close up on the fabric. The yarn appears to be worsted weight, but it's really two strands of somewhere between sock and sport weight yarn. Double the yarn yardage!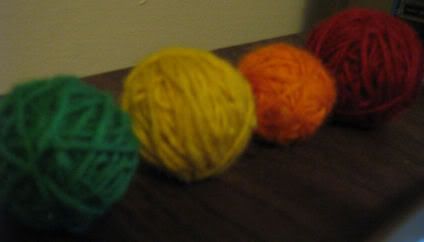 The resulting yarn balls as of last night. As of this afternoon, the green ball is at least twice its size and a fair size ball of blue has joined them. And I haven't even passed the neck/shoulder area yet.
The yarn is very rough, so I know it won't become socks, but I'm considering making a shawl out of it, in a simple lace design, since it's not fine and smooth enough to have a uniform lace look to it. I'll post photos once all the unravelling's done!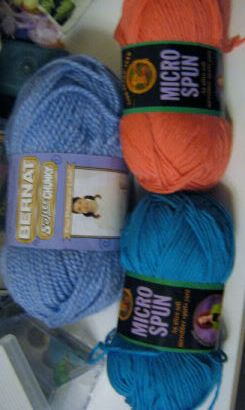 On Mom and I's shopping excursion tonight, I picked up some yarn at the local Michael's. I finally got my hands on some microspun, which I love, it's so soft! The colors are turquoise and coral, the lighting doesn't capture it. And, as I'm determined to make
this shrug
of sorts, I got some Bernat Softee Chunky in "New Denim Heather". I've had the perfect brooch to go with this shrug for months now...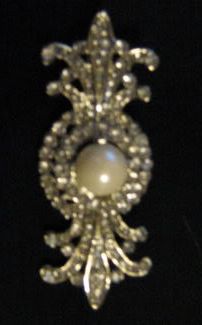 I bought this vintage-esque brooch at a craft store that was closing out, for only $5! It's all the way costume jewelry, but it will really fit with the vintage style shrug!
So, that's all for me now, until next time, keep fit and have fun!