Ahh, it's so nice not to have to worry about progress on my knitting projects, now that the Knitting Olympics is over. I can sit back, relax, and knit whatever I want, without feeling guilty. So here's what I've accomplished in the past week:
One day, I was on the bus to the mall, and I had a brainwave. I've had a skein of Bernat's
Neapolitan
yarn for ages, and I've wanted to make something out of it for just as long. So I finally thought up this: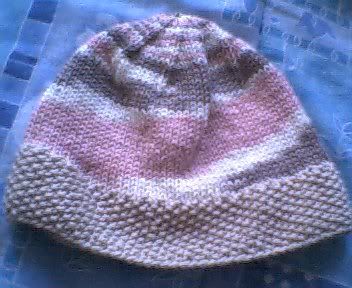 An Ice Cream Cone Hat! It's of course made with abovementioned yarn, and some Patons Canadiana in
Oatmeal
. I was lucky, the yarn store I went to is going out of business, so I got the ball for 30% off! NowI have to plan my purchases there...to get some good yarn deals! And maybe add to my needles...I've been eyeing some BIG needles :)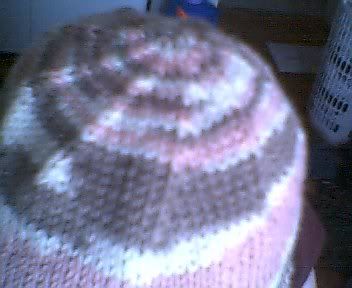 See how it spirals, just like real Neapolitan ice cream?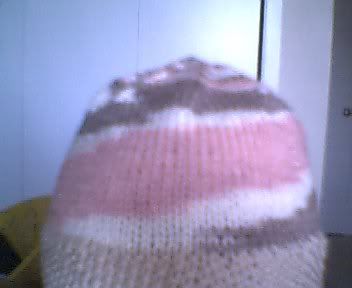 Now, picture it with a big red pom-pom, for the cherry on top! I have to get to a craft store for a pom-pom maker, I'm not cutting out some cardboard ones!
I also made this much progress on Sesame: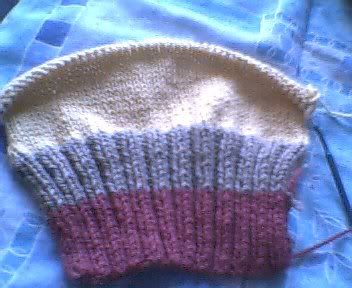 Yeah, not a lot. I was more interested in the hat, which I whipped up in a few hours. But I also worked on the shrug I've been commissioned to do...I just need her measurements and I can finish it!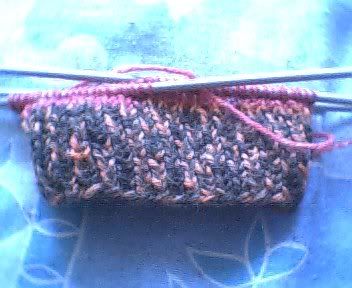 I also re-started this sock with some beautiful Opal
Dreamcatcher
Yarn (Color 1237, bottom right corner).
So, that's about it in the knitting world. Oh! I dyed some yarn today! The same color and yarn as the last time, so I can finally finish Under the Hoodie! Yipee!