Today I made a stop at
LK Yarns
(the store, not the website) in the Hydrostone Market here in the city. I am in awe of how crammed full that place is! So many amazing yarns, from your generic run of the mill yarns found in every yarn shop, to beautiful hand dyed wool yarn and rovings. I must go back, with a big wad of cash. But my goal is to finish ALL the projects I'm working on before I buy any more yarn. But I slipped today. I bought some Patons Kroy sock yarn ay LK, just because I have some pretty peach yarn that won't make a pair of socks.... I've just done a quick search and found my
Fancy Free
color, which I think will go well with the peach I already had.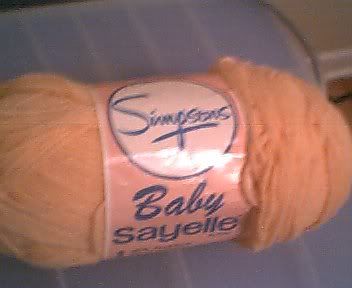 I MUST go back to LK. But I MUST restrain myself!
Okay, so the list of projects I have to finish before I can start anything else goes like so:
-POA/GOF style Ravenclaw scarf
-Mudflap Girl Tanktop (bright yellow w/ a pink skull and crossbones)
-London Calling Sweater (turquoise, hot pink and white/silver tinsel)
-Opal Socks (wool/silk in pink, green, blue and yellow stripes and b/w pattern)
-Punk Rock Backpack (the bunny version)
-Hurry Up Spring Armwarmers (the second one)
-winecozy from knitty.com (but I think I'll scrap that one, I've already ripped it twice)
-Ron Weasley doll accesories (Weasley Sweater, maybe robes and a school sweater)
-
Kitty Ears (just need to put on the pink inside of the ears!)
hmm, I believe that's all. wow, I have a long way to go. 9 projects. hmm, maybe once I get down to 5 I'll start some new ones. I see more socks in my future and a new handbag. Oh and my brother's Christmas present. And some other christmas presents. I'll never win :)
My soon to be Mother in law (Mom #2 as I call her) knits and crochets, so she sent me a pattern for a catnip toy for my two kitties, Carlos and Mahoot. It's made with Lion Brand Fun Fur and took less than a 1/2 hour to make. This is the finished product: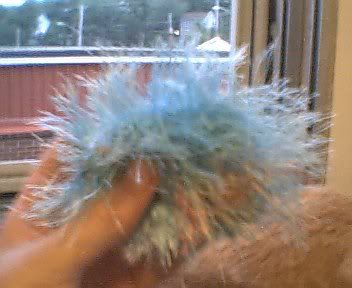 And this is Carlos having a fit over it when I let him sniff it: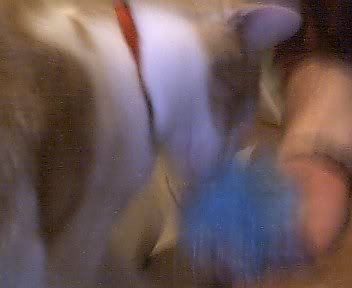 The toy is now demolished and very damp. He enjoyed it very much!
Anyhoo, time to sign off for now. I'll
try
to get some FO pics posted soon, and maybe even some UFOs, since I have 9 of them!