I had to write on my hand Update! With three underlines, just so I would remember to do this. My sock pal is anxiously waiting for me to post about the gorgeous socks and other great stuff she sent me, and I have so much to post! Be prepared for a long, detailed blog full of pictures!
Ok...Where to start...
Well, A few weekends ago, I went home to try and sell my knitted scarves, hats and dishcloths at the annual 50 Mile Yard Sale.
I set up my table at my parent's house...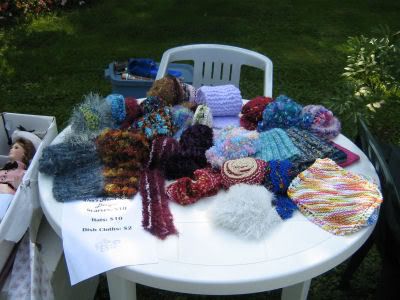 Priced the items according to what I thought they were worth ($10 for a scarf, $10 for 100% wool touques, $2 for a dishcloths)....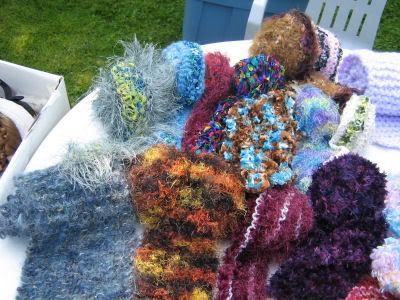 And by the end of the day, I sold 1 scarf and 3 dishcloths! Terrible! People are just not looking for quality knitted items at yard sales!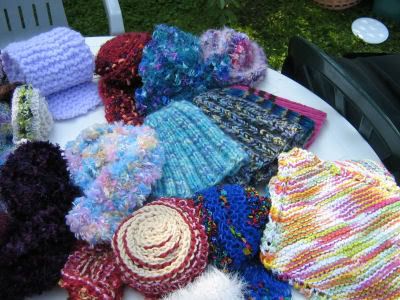 At least I got to see a pretty Monarch butterfly.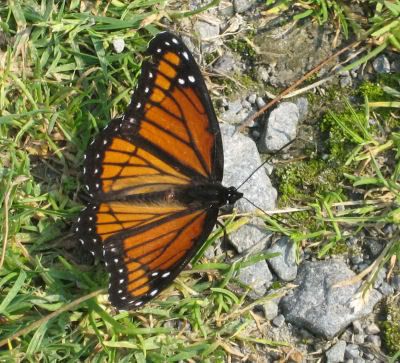 A few days later, I got a package in the mail. It was from my sock pal, from Sockapalooza! I told her I liked Dobby socks (ones that didn't match), and that's what she made! They're wonderful, and they fit perfectly! I haven't had to wear them yet, it's been really warm here, in fact, yesterday got up to 31 celsius (88 ferenheit), feeling like 39 celsius (102 ferenheit)!!!! But I love them!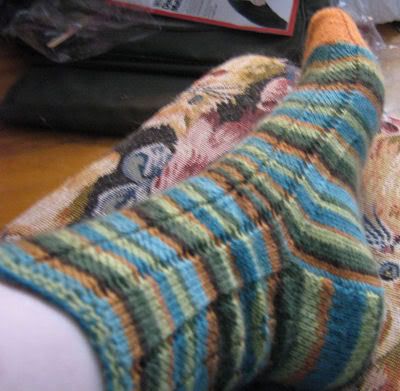 Broadripple sock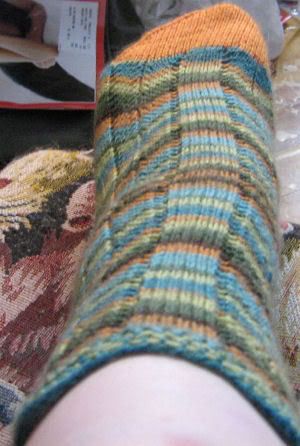 And for the other foot....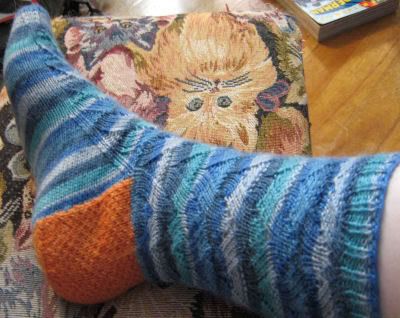 Monkey!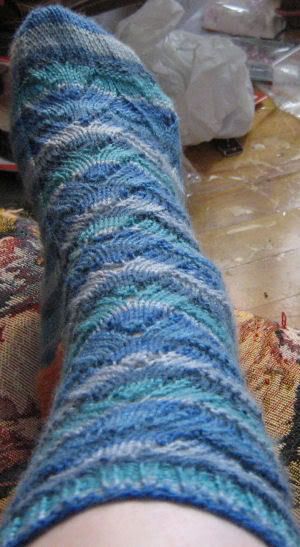 I love the colours in both pairs. But she didn't stop with the socks, no, this is what she sent along with them!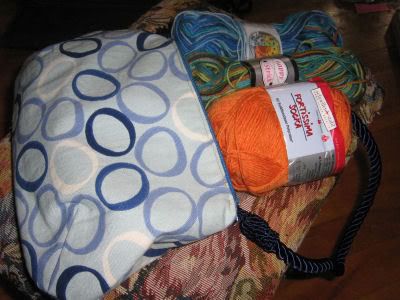 The rest of the yarn! That's crazy! AND a pretty bag! The outside fabric matches the monkey sock, and the inside fabric matches the Broadripple sock! So awesome!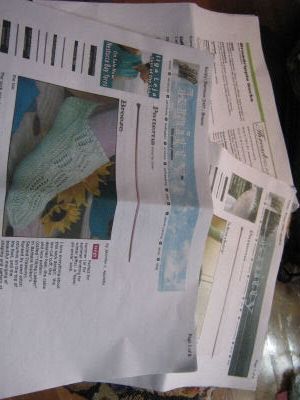 She also sent me the patterns for the socks she made, and another pattern for an ankle sock, which I couldn't resist making!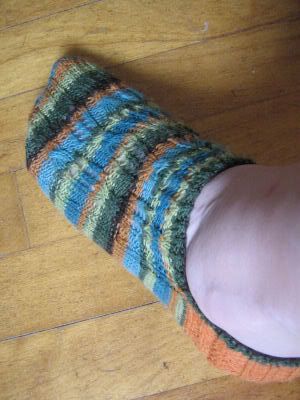 (I have such a huge ankle, from multiple sprains that made it swell up to the size of an orange!)
Tada! One Breeze sock down, one to go, which I think I'll make with the orange yarn and the orange stripey yarn for the heel. Yet another pair of Dobby socks!
Close up of the lace pattern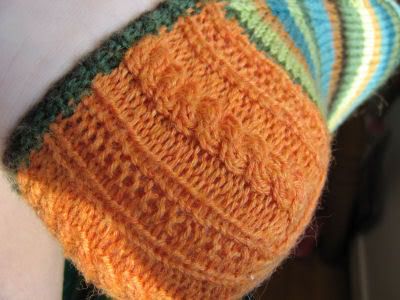 And the gorgeous heel!
She also sent me a wonderful lemon and poppyseed soap, that I use all the time, it smells great! And a sample of wool wash, which I'll be using soon to get all my socks ready for chilly winter nights.
And I took some shots of berets I made, but I think I'll wait for my next post to talk about those.
For now, here's a shot of Carlos on our new bed, which is insanely comfortable!