Well, I don't know why I'm posting now, but it's about damn time! I just switched over to the "new Blogger" so I think an overhaul is in order, with a new template or something. I've done a few things knitting and crochet related, but mostly small projects. So, without further ado, we will see what I've been up to!
This will take a bit of photobucket digging, please bear with me...
Oh, over Christmas, I got YARN! Yes, it must be in all caps. We're talking the most you could pack in to 3 grocery bags. Lots.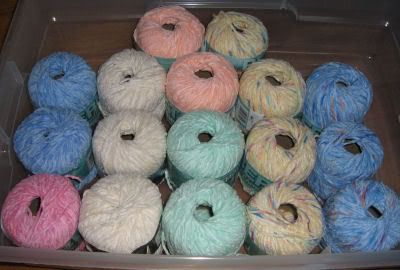 17 balls of Bernat Chenille, which I can find very little on. From Right to Left: 3 balls Blueberry Splash, 4 balls Banana Splash, 2 balls Melon Ice, 2 balls French Mint, 3 balls Off White, 2 balls Blueberry Frost, and 1 lone ball of Cherry Cream. It's fairly thin, the gauge is 16sts & 30 rows = 4" on 4mm needles. Each ball is 85yds/78m. I started a scarf on the off White, but it was tdious, so I frogged it, and started on a dishcloth style shawl or blankie in the blueberry and banana.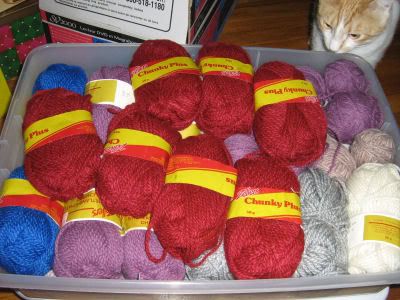 Too Many to Count balls of chunky yarn from Zellers (Canada's Target). Lots of colors, mostly red, purple, green. I have a better idea for these. Lots of Hats, starting with one from a Knit 1 pattern that's got a pom pom mohawk...I just need 10 1/2 US circs and dpns...So far, I made a cable knit bag and a pair of slippers with this stuff.
Ok, on to some FOs!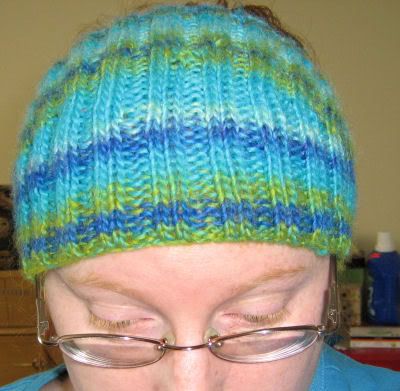 I give you
Calorimetry
. This pattern is so popular on
Craftster
and my lj community, I couldn't pass it up! I made two more, one in winter white and one in too teal in PCW. This one is done with Katia's Mexico on US 7s, which pops up on my blog since I bought about 6 balls of it!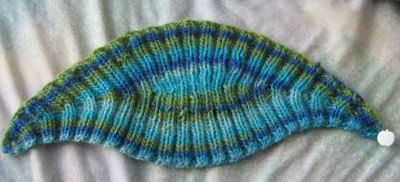 It's so pretty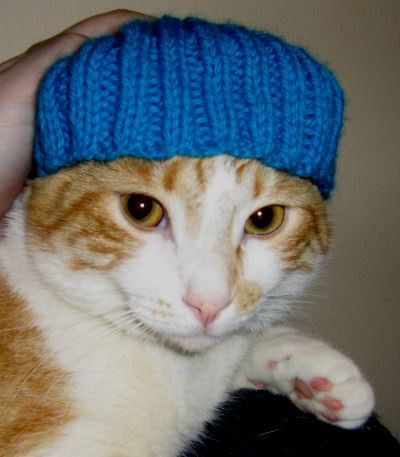 Carlos sporting my too teal Calorimetry.
Anyways, moving on...to my first ever crocheted hat!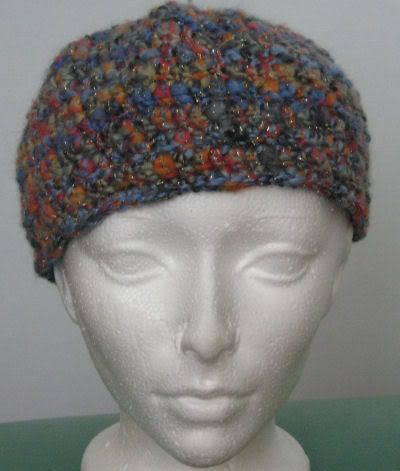 I love it! It's a non-pom pom version of the his and her hats from the
October issue
of Crochet Today. It's made with Moda Dea
Cache
in Rendezvous, for once the reccommended yarn!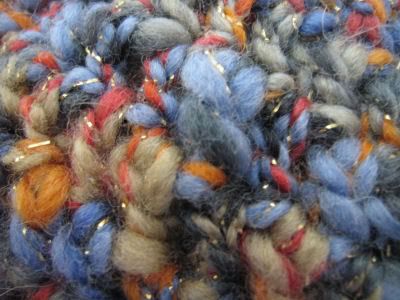 A close up of the stitches.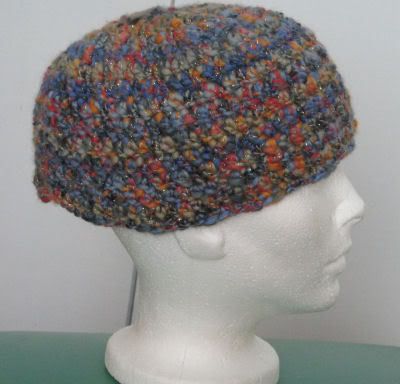 It's a bit big for my styrofoam head, but I wasn't about to model it, what with my bed head.
My prototype for a crazy idea for my wedding guest's favours. Around 100 crocheted cupcakes, filled with candy, either smarties or jellybeans. The inside of the cupcake is supposed to be stuffed, but I think it'd be cute to use them as favour boxes (and less expensive than the little cardboard one's that are about $4 for 12 at Micheal's).
So, very soon I have to get to Walmart and buy two big balls of white and blue and get cracking!
Oh, and I'm thinking of having a crocheted wedding cake to put on the favour table, too.
And last, but not least, I finally finished my House Unity Scarf!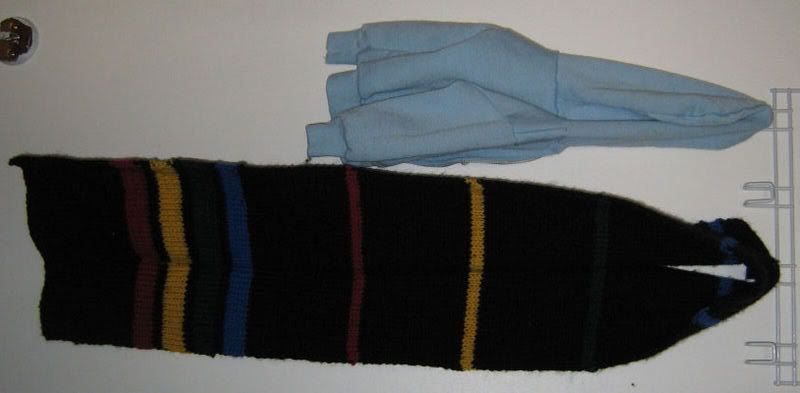 The jacket next to it is a baby sized hoodie I tried to get Carlos to wear. He didn't.
I'm quite pleased with the results, it's much lighter than my other Harry Potter scarves, it makes me want to frog both of my ravenclaw ones and redo them in 1x1 ribbing!
And finally, my obligatory cat pictures: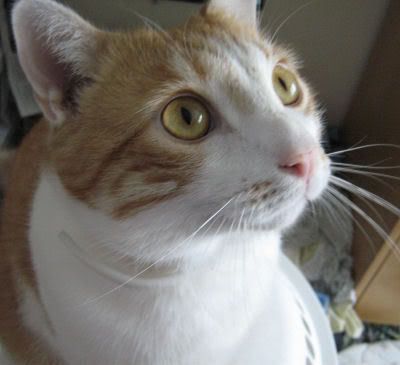 My cats are far more photogenic than I.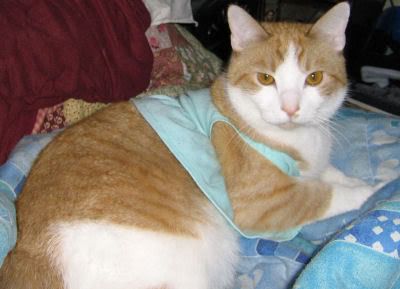 Mahoot's in a dress! tee hee!