I've learned to crochet. Bad Idea. This means the projects I want to do has exploded exponentially now that I can do both. And my absolute obsession now?
Amigurumi
. I want to make tons of cutesy little toys that just make you go "awww" and melt a little inside. I am determined to figure out
this little gem
, as I would go into cuteness overload as soon as I put on those big eyes. And the best part of amigurumi, you need very little yarn to make 'em, and that means STASH BUSTING!!!! Very handy. So far, I've made a cute mushroom (can't show you, it's for a swap!) and I'm working on a
cute lil unicorn
, which I had started to knit, but this one is so much better! And I plan on using
this basic pattern
to design my own Ami. Someday I'll be as good as
her
(YEAH RIGHT!).
Update on my knitting: Almost done the neck on Sesame! Have yarn for Big Boho Blankie, not enough to finish, but I'm plugging away on it. And, um, that's about it!
I need a photo...this is a very blank post...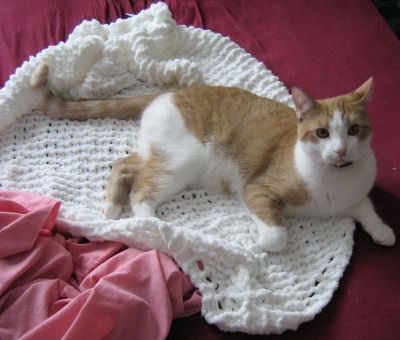 The Big Boho Blankie in action! Mahoot has some competition for the softest thing in the apartment!