Hurricane Adolf or whatever it's called has hit Halifax in what has been a lousy rainy spring. Yesterday was really nice, up around 22 c but of course that was short lived. It's really depressing not having any Vitamin D! So I'm just here drinking some vitamin c while I post some of my FOs. Granted, one of my FOs has become MIA for some reason, though I KNOW I bought it home from my Aunt & Uncle's 40th wedding Anniversary. Anyways, on to the photos. But before that, all I can think of right now is "Afternoons will be measured out, measured with coffeespoons and T.S. Eliot" A present for anyone who can name the song :)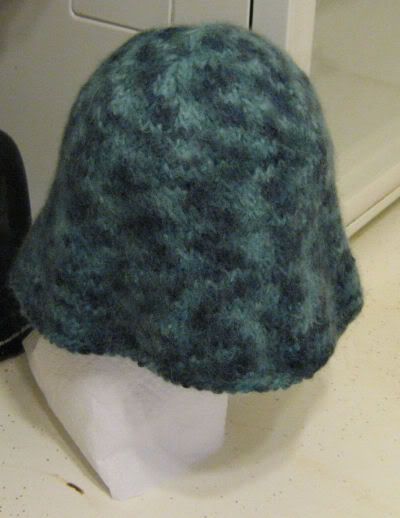 I bit the bullet and felted my Freedom Wool Cloche. Here it is drying on my makeshift hat form. It's a round bowl balanced on a paper towel roll. Worked well, but the bowl had a hard time staying on the roll.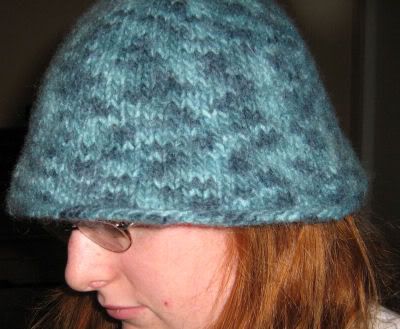 And here it is dry and on my head. It still needs a ribbon and a flower or brooch. I just don't have anything to match just yet. I would have liked it a little longer, but I'm still pretty happy about it.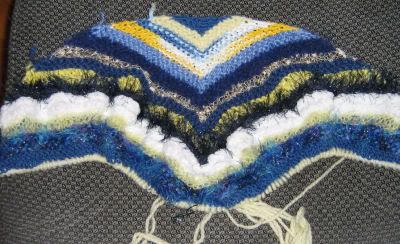 Here's the special project I whipped up over a few days. It's a really simple triangle shawl made with 13 different yarns, including all the ones I posted about, and a few more I found in my stash. This is a WIP pic, because it's lost at the moment. It looks so nice though, pinned up at the shoulder so the longest part is on my other side. Sort of looks like an assymetrical poncho. Urg, I wish I could find it. Anyway, this picture shows one repeat of all 13 yarns. I did this in garter stitch, 4 rows for each stripe, 2 full repeats of the 13 yarns, and then 6 more stripes in pattern. I'm so pleased with how it turned out, the textures are wonderful, it drapes perfectly, etc.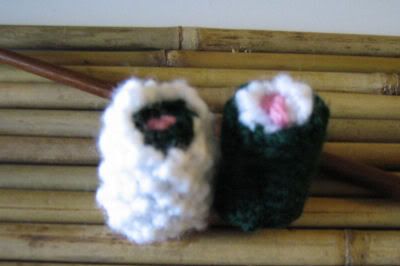 The start of my sushi for Greg's mom. One Tuna Roll and one California roll from the
Magknits
pattern. I love how seed stitch turns into rice! Mine aren't the best looking, but I think Mom #2 will get a real kick out of them :) I'm also giving her a sushi set, which is where the bamboo mat came from.
And while this isn't knitting, I have no other craft blog, so I give you my cigar box purse:
I got most of the materials from Micheal's, including a book of cigar label images, like the one here. I still need to get some strong glue to attach some sequins and rhinestones, but otherwise it's pretty much done. I also picked up a metal lunch box to decorate as well :)
And that's all for now. The sun tried to break through the clouds while I was typing, but now it's gone away again. Boo tropical depressions!